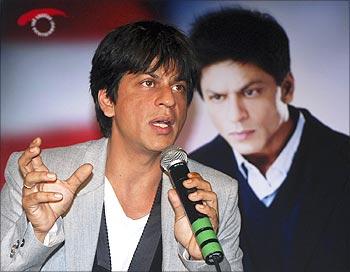 They neither had the opportunity to catch a glimpse of his blockbusters nor the popular TV shows anchored by the superstar. Yet, actor Shah Rukh Khan has a large fan following in a remote village in Orissa's Kendrapara district.
The remote village now has light after daybreak, courtesy the generosity of King Khan.Ahirajpur village under Rajnagar Tehsil has come under the purview of a solar energy harnessing project funded by Khan.
But for SRK's generous contribution, Ahirajpur would have still remained shrouded in darkness.
Khan had fully funded the project and The Energy & Research Institute implemented it as part of NDTV's Greenathon initiative titled Light a Billion Lives, said  Biraja Prasad Pati, the local coordinator of the project.
It is a sort of dream come true for residents of this perennially backward village.
To harness solar energy, a recharging station has been installed in the village. People take home the cost-effective solar lantern after paying a fee of Rs 3 for charging.
The village has about 100 households with a population close to 500. "Regular consumers are being charged Rs 3 while occasional users pay Rs 5 for charging," Pati said.
"We owe our gratitude to Shah Rukh. Many had never heard of him. But after the project got underway, locals have now become curious to know more about him," said Tapas Mandal, the village ward member.
The solar lamps are benefiting the women and schoolchildren the most, Mandal said.
Apart from Ahirajpur, SRK's benevolent gesture has helped in lighting up two other villages, Jadapala and Tarajodi,  in Mayurbhanj district.
Bollywood actress Shilpa Shetty's donations also have helped light up three villages in Rairangpur sub-division in Mayurbhanj district.
© Copyright 2022 PTI. All rights reserved. Republication or redistribution of PTI content, including by framing or similar means, is expressly prohibited without the prior written consent.