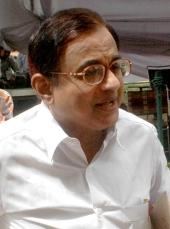 Union Home Minister P Chidambaram has given to United States officials three lists of terrorists and gangsters, which includes the names of 60 Pakistanis killed by Indian security forces in various encounters in different parts of the country, and another of 10 arrested in the past year.
A top government official on Friday said Chidambaram had compiled the lists before leaving for the US for a four-day visit and shared it with American officials. "Their names and addresses in Pakistan were given in the list," the official said.
The first list had names of 60 Pakistani terrorists killed by Indian forces. There were also names of another 10 arrested and lodged in Indian jails.
The second list comprises names of those terrorists who are operating from Pakistan against India including Maulana Masood Azhar and mastermind of Mumbai terror attacks Hafeez Sayeed. It also has the names of several members of underworld don Dawood Ibrahim's gang.
The third list has the names of those terrorists who have been operating from Pakistan-occupied-Kashmir and their activities are concentrated in Kashmir.
Sharing the lists with officials like Secretary of State Hillary Clinton and Homeland Security Secretary Janet Napolitano, Chidamabaram asked them to rein in these terror elements.
Meanwhile, the government is contemplating launching a publicity blitzkrieg in Pakistani media about the activities of the terrorists belonging to that country in India. The campaign could be in the form of an advertisement.