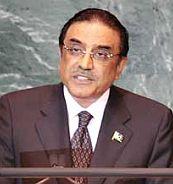 Pakistan's President Asif Ali Zardari has rejected United States' strategy of linking policy on Pakistan and Afghanistan in a bid to end the Taliban insurgency and bring stability to the region.
US President Barack Obama earlier this year appointed senior diplomat Richard Holbrooke as his special representative to Pakistan and Afghanistan in a move to amalgamate the two states as a single arena of conflict.
"Afghanistan and Pakistan are distinctly different countries and cannot be lumped together for any reason," Mr Zardari said in an interview with the Financial Times on the anniversary of his first year in office.
Zardari's comments reflect Pakistan's unwillingness to be aligned in a joint policy framework with neighbouring Afghanistan, an approach referred to as "AfPak."
Zardari also made distinction between a Pakistan with functioning institutions, diversified economy and a powerful national army, and Afghanistan, a state shattered by decades of conflict and ethnic divisions.
Zardari also said Holbrooke had brought a "unique focus on relations with Pakistan" and acknowledged the emphasis President Obama had put on Pakistan's economic and energy needs.
Zardari's interview comes ahead of a high profile meeting with US prez Obama and United Kingdom Prime Minister Gordon Brown in New York later this month and a visit next month to Islamabad by US secretary of state Hillary Clinton. At these meetings, Zardari is expected to appeal for more financial aid for Pakistan, which according to him, is important to annihilate the menace of terrorism.