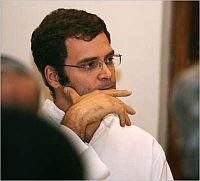 Indicating it was premature for the Congress to consider going it alone in the next Lok Sabha elections, party General Secretary Rahul Gandhi on Thursday said it would be a "shallow idea" to follow the Uttar Pradesh experiment in other states.
On a visit to Chennai to strengthen the Youth Congress in Tamil Nadu, where the party has not been in power for the last 40 years, he made it clear that the Dravida Munnetra Kazhagam-Congress alliance in the state as well as at the Centre was working well.
Gandhi parried questions on why he has not met DMK patriarch M Karunanidhi during the current visit saying the media was needlessly trying to rake up controversy.
"In many ways I am an admirer of Mr Karunanidhi and have high respect for him," he said, adding that Congress has a good relationship with the DMK.
Asked whether the successful experiment by the Congress of not having any tie-ups in UP in the last Lok Sabha elections, where its numbers went from nine to 21, would be replicated in other states, he said, "The idea that the UP concept can be applied universally across the country is a shallow idea. I think you have to look at every state and look at the dynamics within each state," he said.