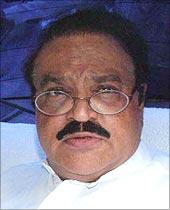 Warning that both the Congress and the Nationalist Congress Party would be losers in the Maharashtra assembly elections without a poll pact, the Sharad Pawar-led party on Thursday warned that 'time was running out fast', with clouds of uncertainty hovering over the 10-year-old alliance.
"No party is in a position to form the government on its own. If we (Congress and NCP) don't come together, the Shiv Sena and Bharatiya Janata Party will come to power. There is very little time left. We have to decide on the alliance fast," said Deputy Chief Minister Chhagan Bhujbal.
The election process would be set in motion with the gubernatorial notification on September 18.
Though favouring an alliance, the NCP leader said his party was prepared to contest all 288 assembly seats on its own.
Bhujbal said Pawar will participate in the three-day Parliamentary Board meeting beginning on Friday to finalise the party's candidates.
"We are doubtful, we don't know what the hitch is. It looks like the Congress has ample time to decide (on the alliance)," he said, but hoped that eventually a mutually acceptable arrangement would be worked out.
"I am optimistic. During the Lok Sabha elections too, there was a delay from the Congress side. But, ultimately, we fought the elections together," he said.
The NCP leader said his party would 'more or less' settle for the 2004 seat-sharing formula under which it had contested 124 seats and the Congress 164.
"Although the Congress contested 40 seats more, we won three seats more than them," he said.