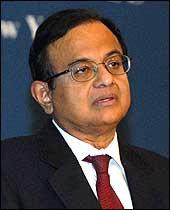 Enhanced co-operation between India and the United States on tackling terrorism particularly in South Asia and Pakistan's role in the region, dominated the deliberations of the Union Home Minister P Chidambaram with top officials of Obama Administration today.
Pakistan's role regarding its action against the perpetrators of 26/11 is believed to have come up prominently when Chidambaram met the National Security Advisor General James Jones at the White House.
Jones was recently in India and has been in favour of enhanced cooperation between the two countries in counter-terrorism operations and measures.
Chidambaram also met the Homeland Security Secretary, Janet Napolitano and the US Attorney General Eric H Holder Jr early in the morning. He also had a meeting with Senator Dianne Feinstein, the Chairwoman of Senate Select Committee on Intelligence.
Chidambaram is scheduled to meet the Secretary of State, Hillary Clinton today.
"He is meeting with the secretary tomorrow, and a lot of this, of course, will be follow-up from the Secretary's trip to India," State Department spokesman Ian Kelly told reporters.
"We have a large and growing bilateral agenda with India, including cooperation in the area that would come under his portfolio, under home affairs. And we look forward to continuing that dialogue that we began when we were in India a few months ago," Kelly said.
© Copyright 2020 PTI. All rights reserved. Republication or redistribution of PTI content, including by framing or similar means, is expressly prohibited without the prior written consent.