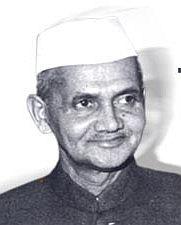 A gold wrist watch gifted to late prime minister Lal Bahadur Shastri by his Russian counterpart Alexei Kosygin has been stolen from his memorial in the national capital, police sources said on Wednesday.
The theft came to light on September 3 but the authorities of Lal Bahadur Shastri Memorial, located adjacent to Congress chief Sonia Gandhi's residence, reported the matter to police only four days later, they said.
Memorial Director Prof A K Das approached the police on Monday about the theft of the watch, gifted to Shastri during the 1966 Tashkent conference to broker peace with Pakistan, the sources said.
Das told the police that an internal inquiry was conducted by his staff but they could not locate the watch and hence decided to lodge an FIR, they said. Das could not be reached for comments.
After registering a case of theft, police searched the premises and collected fingerprints from the building.
The plot where the memorial stands is where Shastri lived. It was turned into the memorial after the death of Shastri's wife and all the articles used by the late prime minister were kept there.
The memorial displays his rare photographs, watches, and an overcoat he wore in Tashkent among other things.
Anil Shastri, the son of the late prime minister, said suspicion is on an unidentified couple and another man who spent "more than usual time" there on September 3.
"After his return from Russia, my father called me and asked whether I would like to wear the gold watch. He was a simple man and told me that he will not wear it. I wore it for 40 years and when the memorial was inaugurated in 2005, I donated it to the museum," he told PTI.
He said he did not expect such a theft would take place at the memorial of an "honest man". He also said that memorial officials have written to the Central Public Works Department asking them to provide locks for showcases which exhibit rare articles of Shastri.
This is the second case of theft at a high-profile building in the national capital in the past one week. On September 4, police received a complaint that the office of President Pratibha Patil's Officer on Special Duty was burgled in the high-security Rashtrapati Bhavan complex.
The watch was gifted to Shastri by Kosygin in Tashkent, days before his death on January 11, 1966 due to heart attack. The then Russian prime minister was mediating between India and Pakistan and reached an agreement which ended the war between the warring neighbour