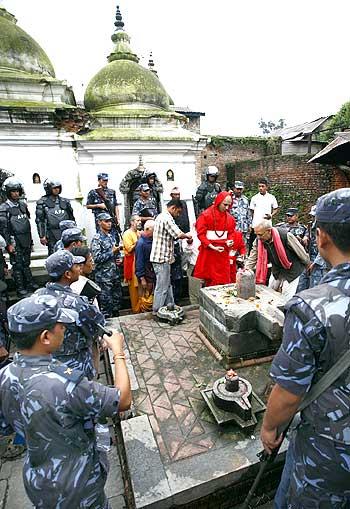 Nepal on Monday dismissed suggestions of any 'Chinese connection' behind the recent Maoist attack on two Indian priests of the Pashupatinath temple.
Deploring the incident that took place at the temple premises on Friday, Nepal Culture Minister Minindra Rijal told an Indian private news channel, "It's very clear that they (Maoists) are involved."
However, when asked about the suggestions of a 'Chinese angle' and reports that pro-China Maoists were behind the attack, he said that inventing a 'conspiracy theory' is not going to help the government.
"As an independent Nepali citizen, some might be a little more sympathetic to China, some might be little more sympathetic to India...being sympathetic does not mean you are part of a Chinese conspiracy," he said.
The Indian priests, Girish Bhatta and Raghavendra Bhatta, both 32 and hailing from Karnataka, were assaulted, their clothes torn and their sacred thread cut by a group of 40-50 Maoists, who stormed the temple on Friday protesting their recent appointment.
The Indian government has condemned the attack on the two priests as an 'unprovoked and criminal' act.
Image: Raghavendra Bhatt (in red), is escorted by security personnel while offering prayers in the premises of Pashupatinath temple in Kathmandu | Photograph: Shruti Shrestha/ Reuters
© Copyright 2023 PTI. All rights reserved. Republication or redistribution of PTI content, including by framing or similar means, is expressly prohibited without the prior written consent.