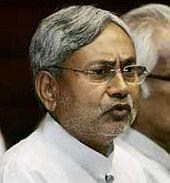 The Patna High Court on Tuesday stayed the criminal proceedings of a lower court against Bihar Chief Minister Nitish Kumar in connection with a case related to the killing of a Congress activist in 1991.
Justice Sima Ali Khan, while hearing Nitish's petition seeking quashing of the criminal proceedings initiated against him in the subordinate court in Barh, asked Additional Chief Judicial Magistrate Ranjan Kumar to stay the proceedings and asked him to send the records to the high court.
Khan also ordered that soon after receiving the records from the Barh court, the matter be listed before the court in the list of 20 most important cases for ensuring speedy disposal.
The high court asked for records of the proceedings with respect to the FIR lodged by Ashok Singh with the Pandarak police station charging them with the killing of Sitaram Singh.
Based on the complaint, the ACJM had summoned Nitish and one Dularchand Yadav to appear before it on September 9. Khan on Monday stayed the summons against Nitish and Yadav issued by the Barh court on August 31.
Sitaram Singh was killed in a firing at a polling booth at Barh during the Lok Sabha elections on November 16, 1991.
Ranjan Kumar had said that a prima facie case for offence under sections 147 (rioting), 148 (rioting armed with deadly weapon), 149 (unlawful assembly), 302 (murder), 307 (attempt to murder) of Indian Penal Code and 17 Arms Act was made out against Nitish and Dularchand.
In the petition filed on January 20 before the Barh court, Ashok Singh, a resident of Dhibar village, had charged Kumar with firing from a gun leading to Sitaram's death.
Sitaram and others had queued up before a polling booth for casting their ballots for the 1991 Lok Sabha by-poll in which Nitish was in fray on a ticket of the undivided Janata Dal, Singh said in his petition.