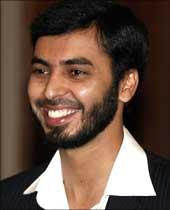 Indian doctor Mohamed Haneef, who was wrongly detained in Australia for alleged terror links, has cancelled his temporary Australian visa.
Haneef is believed to have cancelled the temporary business visa on August 17 to unlock the superannuation contributions made before he was wrongly accused of supporting terrorism.
Haneef's lawyer, Rod Hodgson, said the move did not strike out his ambitions of returning to Australia, as it does not stop him from applying again for a visa.
Haneef, who was cleared of a terrorism-related offence in 2007, in a written request asked the immigration department to cancel his 457 visa, which was not due to expire for another year.
Under the Departing Australian Superannuation Payment Scheme, a temporary resident who has left Australia and no longer holds a valid visa can apply to have his superannuation reimbursed.
'He is committed to a contract to work as a doctor in the United Arab Emirates,' Hodgson was quoted as saying in The Age newspaper.
'He will conclude the contract, then reassess his options,' he added.
Image: Dr Mohamed Haneef