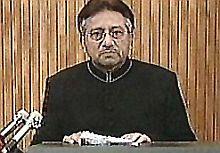 Insisting that it is "incorrect" to dub him as a "dictator", Pakistan's former military ruler Pervez Musharraf has said that he only did what he felt was for the betterment of the nation.
Speaking to a delegation led by Muslim League (Q) leader Amir Muqam here, Musharraf said that during his nine year rule as the head of state, he did what he felt was for the betterment of Pakistan.
"Don't dub me as a dictator. It is incorrect," he said. The economy was in good shape in my tenure... the foreign investment was on the rise and the forex reserves soared to over $ 16 billion, the former president was quoted as saying by The Dawn news.
Musharraf, who is reportedly preparing ground for his return to Pakistan's active politics, said that the media in Pakistan would not have been enjoying freedom without him.
But during his rule Musharraf banned Geo TV and some other news channels for reporting against his government. During the meting, the overall political situation of the country, the war against terrorism and regional issues were discussed in length.
"Terrorism and extremism was the biggest challenges being faced by Pakistan," he said. He stressed the need of politics of reconciliation and said all political forces should work for prosperity and development of the country. He also termed his meeting with Saudi King Abdullah as successful.