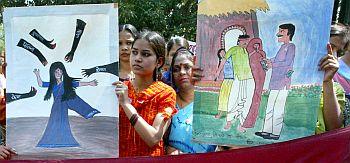 In a startling revelation, a United Nations Children's Fund study has found that over 54 per cent of women in India believe it is okay for their husbands to hit them.
The Unicef report titled 'Progress for Children' surveyed households in 67 countries to determine attitudes towards domestic violence
When asked their opinion, on an average, half of the girls and women aged 15-49 responded that a husband or partner is justified in beating his wife under certain circumstances. The study was carried out between 2001-07.
 
According to Unicef, approval of wife-beating varied significantly depending on the level of education.

Less educated women are more likely to feel that a husband is justified in hitting or beating his wife. As with the level of education, wealth quintile and area of residence appear to influence significantly women's approval of wife beating.

Overall, women from rural areas are women belonging to the poorest quintile of wealth distribution and are more likely to justify wife-beating than women from urban areas and women of the richer households.
In India, there has been an alarming rise in the atrocities committed against women, the report pointed out.
While the Constitution guarantees equal opportunity, patriarchy asserts itself through legal loopholes to consolidate the age-old domination. A range of government programmes have been launched to increase economic opportunity for women, although there appears to be no existing programme to address the cultural and traditional discrimination against women.
Domestic violence affects women's wellbeing and the health, nutrition and education of children who experience it as well as children who witness it.
In the context of gender inequality, women's response to abuse reflects their relatively fewer options to change or leave the relationship and their assessment of how best to protect themselves and their children.
Ending domestic violence requires changing attitudes that permit such abuse, developing legal and policy frameworks to prohibit and reject it, and improving women's access to economic resources and girls' access to education, the Unicef report said.
Photograph: B Mathur/Reuters