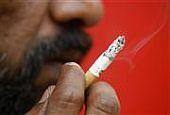 Branding on cigarette packets is being done in such a manner that they mislead smokers into believing some products to be less harmful than others, according to a study.

Researchers at the University of Nottingham surveyed 1,300 people, and found that customers to generally believe that products branded 'smooth', 'silver' or 'gold' were healthier and easier to give up.

They said that when people were shown plain packs, the false beliefs disappeared.

Under the European Union rules, it is banned to claim that some cigarettes are safer than others.

During the study, researchers showed the subjects pairs of cigarette packs, and asked them to compare what they were like, or what they assumed they would be like, in terms of taste, tar levels, health risk, attractiveness.

Participants were also asked which cigarettes they thought would be to easy to give up, and how attractive they would be to someone choosing to smoke for the first time.

The results from 800 adult smokers and 500 teenagers, all in the UK, showed that lighter-coloured packaging led people into believing that the cigarettes had lower tar content, or were generally less harmful.

Among the eight brands they were shown, over 50 per cent adults and teenagers reported that those labelled 'smooth' were less harmful than the regular variety. Fifty-three per cent adults rated Marlboro packs with a gold label as having a lower health risk, and 31 per cent said that they were easier to quit, when compared with the Marlboro packs with a red logo.

When shown packs where the branding had been removed, false beliefs about the risk of harm or addiction dropped significantly.

Since 2002 it has been illegal under EU legislation for manufacturers to use trademarks, text or any sign to suggest that one tobacco product is less harmful than another. Banned phrases include 'low tar', 'light' and 'mild'.

In a study paper, published in the European Journal of Public Health, the researchers said that the regulations were failing to remove 'potentially misleading' information from cigarettes.

'The truth is that all cigarettes are equally hazardous, regardless of what colour the pack is or what words appear on it,' the BBC quoted Prof. David Hammond, from the Department of Health Studies and Gerontology at the University of Waterloo in Ontario, Canada, as saying.

'These tactics are giving consumers a false sense of reassurance that simply does not exist,' the professor added.

Christopher Ogden, chief executive of the Tobacco Manufacturers' Association, said the group did not believe proposals for plain packaging were based on sound public policy or compelling evidence.

'Plain packaging would prevent tobacco manufacturers from providing consumers with information about products that are legally available in retail outlets. Adult smokers use packaging to identify, obtain information about and choose tobacco products, easily and without confusion,' he said.

He further said that the evidence in support of mandatory plain packaging was 'speculative'.

Deborah Arnott, chief executive of Action on Smoking and Health, said that the study's findings indicate that all tobacco products should be sold in plain packaging.

'That would remove false beliefs about different brands and communicate the message that all cigarettes are dangerous. This matter has been discussed by Parliament and there is now a perfect opportunity to include a requirement for plain packaging of tobacco products in the Health Bill,' Arnott added.