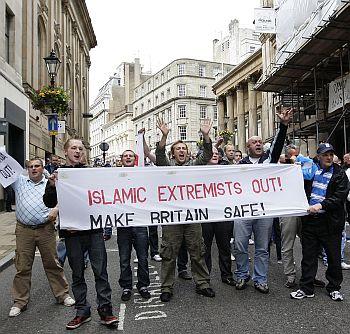 90 people were arrested in Birmingham on Saturday when a rally against Islamic extremism clashed with counter-demonstrators, the police said. Britain has witnessed a series of similar clashes between right-wing groups and anti-fascist activists and South Asian youths constituting the opposing protestors.
The scene turned violent as members of English Defence League, a group that says it is opposed to militant Islam in Britain, clashed with counter demonstrators in Birmingham's central area.
Members of the English Defence League were confined by the police as counter-demonstrators held up placards and shouted slogans nearby, TV footage revealed. About 200 people were involved in the clashes, police added..
Image: Men shout during a demonstration by the English Defence League in Birmingham on Saturday
Photographs: Darren Staples / Reuters