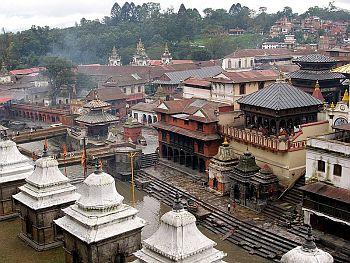 As the famous Pashupatinath Temple re-opened on Sunday for devotees after a two-day gap amid tight security, Maoists blocked roads adjoining the 5th century Hindu shrine and shouted slogans against the Nepalese government for appointing Indian priests.
The former rebels protested the government's action of appointing Indian priests to perform puja at the shrine and demanded that they be removed from the post and Nepalese should be appointed in their places through 'open competition'.
The Maoists also held a meeting in which the Struggle Committee Chief Rishi Sharma and Maoist-appointed chief of the Pashupati Area Development Trust Parmananda Shakya demanded that an independent selection committee be formed to appoint qualified priests by calling applications.
The UNESCO-listed temple, which was closed temporarily on Friday after two Indian priests were trashed by Maoists, opened its doors for the public at 4.00 am as hundreds of worshippers queued up to offer prayers at the temple.
The Indian priests, Girish Bhatta and Raghavendra Bhatta, both 32 and hailing from Karnataka, were assaulted, their clothes torn and their sacred thread cut by a group of 40-50 Maoists, who stormed the temple on Friday protesting their recent appointment.
Security guards checked each and every devotee on Sunday to prevent any Maoist infiltration into the temple again.
"The temple has been opened and people are allowed to worship at the shrine," said Shushil Nahata, member secretary of the Pashupati Area Development Trust (PADT) that looks after the temple affairs.
"The situation is calm now and there are no demonstrations," he said.
Meanwhile, Maoist spokesman Krishna Bahadur Mahar claimed that their cadres were not involved in Friday's incident.
"They are the local people, who beat up the priests and the blame has been put on Maoists," he claimed.

Nahata said the office of the Pashupati Area Development Trust is being re-opened by breaking the locks put by the Maoists.
"We are breaking the locks put by the Maoists last week to start the office work," he added.

He dismissed reports in some section of the media that the two new priests wanted to return home.
"This is totally false and baseless news report," he said, adding that the Indian priests are discharging their duties at the temple. "We will provide security to them."
Meanwhile, Nepalese Foreign Minister Sujata Koirala termed the attack as a "deplorable act" and warned that such incidents could hurt the age-old friendly relations between India and Nepal.
Indian government had condemned the attack on the two priests as an "unprovoked and criminal" act.

Photograph courtesy: Wikimedia commons
Reportage: Shirish B Pradhan