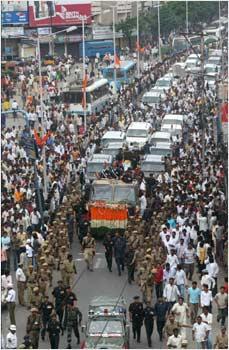 The tragic death of Andhra Pradesh Chief Minister Y S Rajasekhara Reddy has led to an unprecedented outpouring of grief and sorrow across the state.
While many of the late CM's followers have reportedly committed suicide, others have chosen various other ways to express their sorrow.
Many villagers residing in far-flung areas, who could not afford to travel to Hyderabad or Cadippa for YSR's funeral, performed 'funerals' at their villages, with the effigies and photographs of the 'Prajala Manishi' or 'man of the masses' as the chief minister was fondly called.
 
Meanwhile, YSR's son and his possible political successor Jaganmohan on Friday made a televised appeal to the people not to resort to such extreme steps, which will pain the soul of his father.
 
The residents of Karimmnagar, Medak, Ranga Redd, Khammam and many other districts took out funeral processions with YSR's effigies and photographs.
"He belonged to us. It was like a death in our own family. We could not attend his real funeral but at least we could organise it in our own way in our own villages," said Jogaiah, a resident of Rachapally village of Medak. He had also organised similar funerals for former prime ministers Indira Gandhi and Rajiv Gandhi after their assassinations.
 
In Khammam and Medak districts, several villages, many of them dominated by Dalit population, held funeral processions and cremations with all the requisite rituals.
Image: Huge crowds thronged YSR's funeral procession | Photograph: Snapsindia