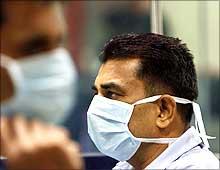 One more person died of swine flu in Pune on Friday night, taking the death toll due to the viral infection in the city to 34, health officials said on Saturday.
Sandeep Dayne, 35, died on Friday night at a private hospital, where he had been undergoing treatment since August 28.
Meanwhile, six fresh cases of the viral infection have been detected in the city, which has been worst hit by the pandemic.
The Pune branch of the Indian Medical Association has announced that it would hold workshops to train doctors in rural areas to handle suspected swine flu cases.