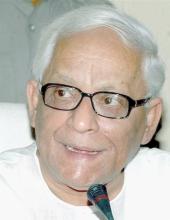 The Communist Party of India - Marxist Politburo on Saturday began a two-day meeting to finalise a document, to deal with its organisational problems, which led to its rout in the recent polls in its strongholds of West Bengal and Kerala.
The purpose of the meeting is to give final touches to amend and strengthen its 'rectification document' that had been prepared several years ago. The meeting is being attended by all top leaders barring West Bengal Chief Minister Buddhadeb Bhattacharjee, who is not well, and the party's Kerala Secretary Pinarayi Vijayan.
The Central Committee had met almost two months ago to discuss the factional infighting in its Kerala unit. The top brass had later met and removed its senior-most leader and Chief Minister V S Achuthanandan from the Politburo.
Earlier, the committee had also debated the electoral debacle which had resulted in the CPI-M parliamentary strength to fall sharply from 42 in the 14th Lok Sabha to 16 in the 15th.
The document is likely to carry out a 'self-critical evaluation' and recommend steps to stem the party's organisational rot. The issues to be dealt with range from factionalism and ideological deviation to corruption.
The party is expected to ask its leadership at all levels to unite and launch mass movements on issues directly affecting the people like price rise, drought and the impact of the economic downturn.
Bhattacharjee skipped the CPI-M's two-day politburo meeting on health grounds as party sources scotched rumours about any political reasons behind it. CPI-M sources said that the chief minister, who had just recovered from viral fever, was advised by doctors not to take any immediate strain. This had led the state leadership to ask him to stay back in the city.
Dismissing rumours doing rounds in political circles that Bhattacharjee was deliberately avoiding the meeting, sources claimed that the CM had been administered antibiotics to overcome the viral infection as he was feeling weak.
"There is not much to read in his illness," sources said. This is the second time after the Lok Sabha elections that Bhattacharjee would not attend the politburo meeting in Delhi.
He had skipped the chief ministers' conference convened by Prime Minister Manmohan Singh in August. CPI-M state Secretary and politburo member, Biman Bose, who has already left for Delhi, had said yon Friday that since Bhattacharjee is not keeping well, he has been advised to stay back and attend office.