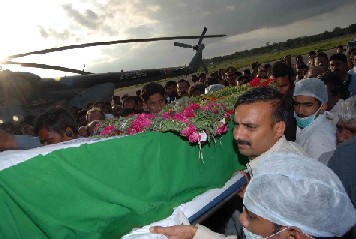 The Civil Aviation Ministry on Thursday night set up a four-member committee to probe the cause of Andhra Chief Minister Y S Rajasekhara Reddy's helicopter crash in which he was killed.
The committee has been asked to complete its inquiry and submit its report to the government within two months. R K Tyagi, Chairman and Managing Director of Pawan Hans Helicopters will head the committee, the Civil Aviation Ministry said in a statement.
The committee will also take the assistance of other experts from Indian Air Force wherever required, it said.
The Bell 430 helicopter belonging to Andhra Pradesh government, carrying Reddy and four others, crashed into a hillock and exploded on Wednesday while flying from Hyderabad to Chitoor.
Reddy and all others were killed in the mishap. Sources said the DGCA will now insist on carrying of satellite phones and effective transponders on every helicopter carrying a VIP apart from the other equipments on the choppers.
The Directorate General of Civil Aviation has already begun a probe into the chopper crash. The regulatory body has also been coming out with instructions on a regular basis for heli-operators to follow the laid down rules, procedures and guidelines. It has laid down stringent guidelines for helicopter operations in the country.
The DGCA had made it mandatory for non-scheduled plane and helicopter operators to possess valid airworthiness certificates for their aircraft which should be inspected by licensed aeronautical engineers on a regular basis.
According to aviation sources, most of the helicopter accidents have occurred when the aircraft was being flown under Visual Flight Rules instead of being guided by Instrument Flight Rules. Visual flying rules are generally not used at busy airports which have a controlled airspace and the air traffic is generally guided by IFR. Also, the flight plan of VIP choppers should clearly indicate alternative airports for landing.
Text: PTI
Image: Y S Rajasekhara Reddy's body brought from the Nallamalla forest  to Hyderabad
Photographs: SnapsIndia