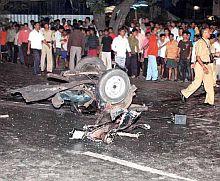 It was a quirk of fate that made a Hyderabad-based advocate hire a cab instead of taking a local train to suburban Kandivali as the taxi blew up mid-way killing him in a powerful bomb blast in the 26/11 attack, a witness told the trial court on Friday.
Laxminarain Goel was to take a train to Hyderabad but it was cancelled after terrorists opened fire indiscriminately at Chhatrapati Shivaji Terminus, forcing him to stay back in Mumbai, his sister-in-law Usha Choudhary said.
The witness said Goel called up to say that long distance trains had been cancelled following the terror strike at CST and he was coming to her Kandivali home.
"I advised him to come by taxi and not by train and also suggested that he should call up from his cell phone after he hired the cab. He talked to me and his daughter, who stays in another locality, said he was on way to Kandivali," the witness told special public prosecutor Ujjwal Nikam.
When he was talking to his daughter the mobile phone connection suddenly went off and perhaps this happened due to the bomb explosion, the witness said.
It is prosecution's case that the lone surviving terrorist Ajmal Kasab had planted a bomb in the same taxi while traveling from Badhwar Park to CST.
Kasab, however, in his version before the court, said it was slain terrorist Abu Ismael who had planted the bomb.
Another witness, who was injured in the mishap, said he was going to his workplace on foot with his friend on the Western Express Highway near Vile Parle when he heard a deafening noise.
"Initially I could not see anything but later I saw a taxi being tossed up in the air and felt my right shoulder had been injured. I tried to lift up the shoulder but could not do so," Shamsunder Choudhary said.
The witness said his friend took him to a family doctor who said the injury was serious and referred him to Cooper hospital where he was under treatment from November 26 to December 5.
According to prosecution, two persons were killed in the taxi blast and two others injured. The two killed were advocate Laxminarain Goel and taxi driver Umar Shaikh.
The prosecution examined Umar's friend, Irshad Ahmed Shaikh, also a taxi driver who said he had talked to Umar on the night of terror attack and learnt about CST firing.
When he saw Umar's taxi number flashed on television on the next day, Irshad went to police who told him about the taxi blast. He also identified the body of Umar in morgue at Cooper hospital. Umar's head had been severed but the body was badly mutilated, the witness told the court.
The taxi owner, Shaikh Abdul Rahim, deposed saying his vehicle was totally damaged in the explosion and he suffered a loss of Rs 1.5 lakh but he did not get compensation as he had only third party insurance cover.
Image: The remains of the taxi on WEH in Mumbai on Nov 26, 2008