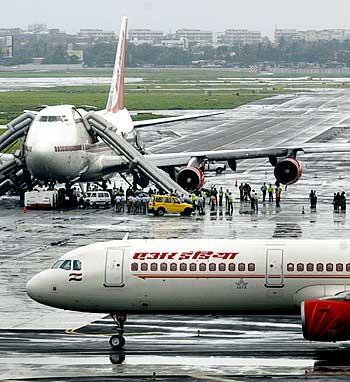 An engine of a Riyadh-bound Air India plane with 229 people on board caught fire on Friday while taxiing at the Mumbai airport, forcing it to abort take-off and evacuation of passengers through emergency exit chutes.
All the 213 passengers and 16 crewmembers of AI-829 flight were safe as the blaze was put out immediately, Mumbai International Airport Limited officials said.
Air India derostered an aircraft maintenance engineer, pending investigation.
As the Boeing B 747-400 plane was taxiing on the runway for takeoff at around 10.50 am, a fire was detected in one of the two left side engines and the aircraft was brought to a halt. The emergency drill was activated, officials said.
Fire tenders rushed to douse the fire that was visible from airport terminal. Eyewitnesses said black smoke billowed out from the plane's engine, as the people were evacuated through emergency exit chutes and taken to safety.
The Directorate General of Civil Aviation has taken up investigation into the incident. "We have initiated a probe," an official said.
"An aircraft engineer responsible for supervising departure of the flight was derostered pending enquiry as per practice," an Air India spokesperson said.
When asked whether the fire was caused due to an oil leak, a DGCA official said, "It is too early to say anything."
All the stranded passengers were later sent by another plane to Riyadh, the airline spokesperson said.
Image: Air India's Boeing 747 aircraft (rear) stands on a tarmac after one of its engines caught fire at Mumbai airport | photograph: Punit Paranjpe/Reuters