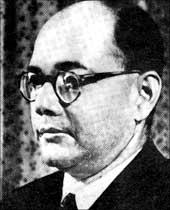 The Chief Information Commissioner on Friday directed the Union Ministry of Home Affairs to disclose all its records used by the Justice Mukherjee Commission to probe the alleged disappearance of Netaji Subhash Chandra Bose in 1945.
CIC Wajahat Habibullah, however, reserved his verdict on making public documents relating to the issue which belonged to other ministries, state governments and the Prime Minister's Office.
These documents are currently in possession of the home ministry.
He said while the onus to disclose them, under the Right To Information Act, lies on the "holder" of the document, which at present is the home ministry and not any other ministries, he would look at court decisions and provisions under the law in this regard before giving his ruling.
The decision comes 33 months after Chandrachur Ghose, an executive with a private firm, filed an application seeking disclosure of exhibits listed in the Justice Mukherjee Commission report.
The home ministry had earlier been reluctant on disclosing the documents despite orders of the CIC, who had questioned representatives of the ministry for the delay.
The ministry officials contended that the process of transferring these documents to the National Archives of India was on, even as Habibullah warned that this could not go on indefinitely.
"There should be some reasonable time for the declassification. You cannot keep doing it for 50-odd years," he said.
Image: Netaji Subhash Chandra Bose