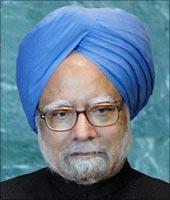 Prime Minister Dr Mammohan Singh has expressed his condolences on the tragic and untimely demise of Andhra Pradesh Chief Minister Dr Y S Rajasekhara Reddy.
In his message to the late leader's wife, Vijaya Laxmi, Dr Singh said that it was a personal loss and described the chief minister as a natural leader who was loved by the common man.
The prime minister's condolence message is as follows:
"It is with a deep sense of grief and personal loss that I learnt of the tragic and untimely demise of your husband, Dr Y S Rajasekhara Reddy
Rajasekharaji died as he lived -- in the service of the people of Andhra Pradesh and the country. In his untimely passing away, the state of Andhra Pradesh has lost an outstanding leader, and the country has lost an ideal chief minister who was a role model for other states. I have lost a valued colleague on whom I depended for support and ideas. Rajasekharaji's life was one of tireless commitment and service to the people, especially the poor and the underprivileged. His legacy will live on and will inspire many others in the time to come.
In his long and illustrious political career, Rajasekharaji distinguished himself in every position he held. He was elected to the state legislative assembly at a young age of 28 years and was a member of the Lok Sabha for four terms. His contribution to the Congress party was immense. He led the party to two consecutive victories in Andhra Pradesh. As president of the Andhra Pradesh Congress Committee, he undertook a historic padayatra in 1998 which endeared him to the people of the state.
As a chief minister, Rajasekharaji will be remembered for his unwavering commitment to the development of Andhra Pradesh and his administrative acumen. All his actions were guided by his deep sensitivity to the problems of the poor and the needy.
Your husband was a natural leader of men, who was loved equally by the public, his colleagues and the common man. The void his passing away has left "behind will never be filled.
My wife joins me in extending our heartfelt condolences to you and your family members. I pray to God to give you the strength and the fortitude to guide you in this hour of profound personal loss."
Image: Prime Minister Manmohan Singh