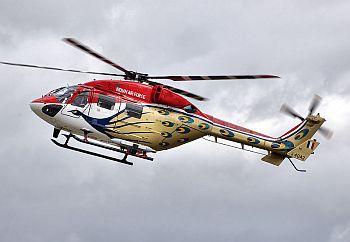 "The chief minister's helicopter has been located atop a hill 40 nautical miles, 73 kilometres east of Kurnool…" This was the message everyone was waiting for since Wednesday when Andhra Pradesh Chief Minister Y S Rajasekhara Reddy's chopper went off the radar.
The above message was sent out immediately after Indian Air Force's Advance Light Helicopter, Dhruv, managed to track down the wreckage of the chopper carrying Reddy and four others.
IAF sources told rediff.com that the chopper from Bengaluru was sent out early Thursday morning after bad weather conditions prevented a sortie on Wednesday.
Two pilots and a rescue team manned Dhruv. The first signs of the wreckage were spotted between 8.30 am and 9 am.
IAF sources said they managed to spot the wreckage after scanning the forest area for an hour or so on Thursday morning. At first they were hopeful that there would be survivors, but as they began to close in they realised that none of the members on board the chopper could have survived.

Immediately after sending the message about the chopper to the Air Traffic Controller in Bengaluru, rescue commandoes on board Dhruv were pressed into action. They were air dropped immediately following which the operation to recover the bodies commenced.
The ALH has been used in the past for other rescue operations as well. ALH Dhruv is part of the Sarang display team of the Air Force. This chopper is stationed at the Yelahanka air force station in Bangalore.

The chopper is also pressed into service at the time of floods and also other rescue operations across the country.