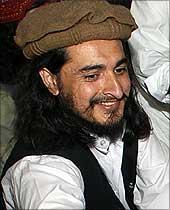 Pakistani security forces believe that the new Taliban chief Hakimullah Mehsud is already dead and the terrorist group is using his "lookalike brother" for media interviews to give an impression that he is alive, media reports in Islamabad claimed.
The Pakistani Taliban is following the tactics to save their image and curb infighting in the group, the reports cited security sources as saying.
The Taliban declared Hakimullah as their new leader after their chief Baitullah Mehsud, brother of Hakimullah, died in a US missile strike in troubled South Waziristan tribal region on August 5. After his death, there were reports of a succession war within the Taliban with Interior Minister Rehman Malik suggesting that Hakimullah had died in an armed clash with another possible successor Wali-ur Rehman.
Both Hakimullah and Rehman later spoke to BBC and denied reports of infighting.
A "lookalike brother" of Hakimullah actually gave the interview to BBC some days ago posing as the Taliban commander, the media said citing sources. He was specially summoned from Afghanistan to head the banned Tehrik-e-Taliban Pakistan on a temporary basis, while the decision to appoint the new chief will be taken by Taliban spiritual leader Mullah Omar, the report said.
The Taliban had declared Hakimullah as their new chief to prove that their top leadership is still intact, the reports said.
Image: Taliban chief Hakimullah Mehsud