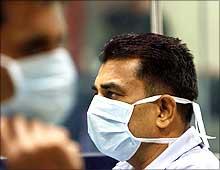 A seven-year-old girl died of swine flu in Pune on Tuesday, taking the toll due to the viral infection in the city to 32. Priyanka Shimilkar, who was admitted to the government-run Sassoon Hospital on August 29, had tested positive for the virus.
Meanwhile, a meeting of Ganesh mandals convened by the district administration has decided to avoid the use of vermilion in the immersion procession of idols on September 3, keeping in view the possibility of allergic reaction to it.
The meeting held under the chairmanship of minister Ajit Pawar felt that since swine flu affected the respiratory system, it would be advisable to avoid substances that could trigger adverse reactions among the people.
The mandals also resolved to wind up the immersion procession within 12 hours to prevent further spread of the virus.