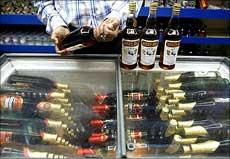 Beverages Corporation, which is the sole body licensed to sell Indian Made Foreign Liquor in Kerala has announced record sale in the Onam season. The corporation said it sold liquor worth Rs 34.14 crore on Monday alone.

The sale figures of consumer federation outlets and the bar hotels in the state are not available as yet. Studies in the past revealed that around 30 to 35 per cent sales were recorded in consumer federation's outlets. It may be noted that the Beverages Corporation is the sole billing body while consumer federation outlets act as secondary shops to beverage outlets.
According to records, the sale on the same day in 2008 was Rs 22.10 crore. This shows an increase of 49 per cent.
The record sale is attributed to the closure of all liquor shops on Uthradam day -- the first day of Onam. People are storing liquor as Thiruvonam (the actual day of the festival) falls on Wednesday.
There is major rush at several Beverages Corporation outlets. Police had to resort to cane charge to disperse unruly mob in several parts of the state.

In Kerala, bonuses for government employees and a month's salary are distributed in advance during the Onam season. What follows is a shopping spree.
Beverages Corporation records shows that during Onam the sale of liquor during the period from August 26 to 31 touched Rs 132 crore while during the same period last year it was Rs 110 crore.
The Beverages Corporation outlet in Chalakkudi in Thrissur district had record sale as usual with the figure touching Rs 22 lakh on Monday alone. The second most revenue-earning outlet was Karunagapally in Kollam district, which sold liquor worth Rs 20.37 lakh.