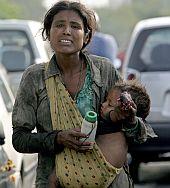 Aiming to rid the city of beggars ahead of next year's Commonwealth Games, the Delhi government will on Tuesday launch a mobile court -- the first in the city -- to enforce anti-beggary laws.
The government will set up 12 mobile courts and a control room assisted by police to speed up convictions of beggars whose population is estimated to be around 60,000 at present.

Delhi Social Welfare and Labour Minister Mangat Ram Singhal will launch the first Mobile Court at Lajpat Nagar.
Begging is an offence under the Prevention of Begging Act, 1959.
Officials said initially, the plan is to launch the anti-beggary drive in areas like Dhaula Kuan, Rajghat and All India Institute of Medical Sciences.
The move is part of government's various efforts to spruce up the city ahead of the mega sporting event, which is expected to draw thousands of foreigners.
The government will also tie-up with police for a hassle-free operation while a special control room will be set up so that the mobile courts can reach the spot where a beggar is found. Currently, there are 12 beggar homes across the city where around 1,500 beggars can be lodged.

The Delhi High Court on August 10 had asked the city government to make all efforts to eradicate the menace of beggars in the national capital.
A division bench of Justice Sanjay Kishan Kaul and Justice Ajit Bharihoke had asked the Social Welfare department of the Delhi government to have a discussion with governments of Haryana, Uttar Pradesh and Bihar and come out with a solution to the problem.