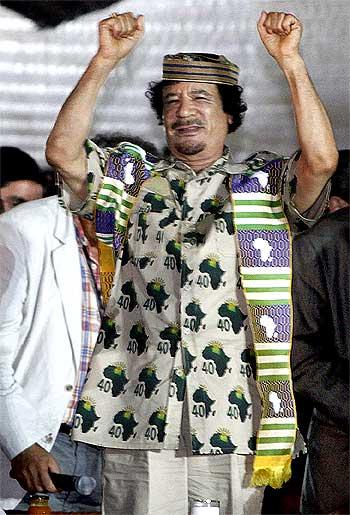 Libya has decided to celebrate the Lockerbie bomber's release openly at Tuesday festivities marking Colonel Muammar Gaddafi's 40 years in power, it has emerged.
A video clip showing Abdul Baset Ali al-Megrahi stepping off the plane which brought him home from his Scottish prison two weeks ago will be projected onto a giant screen in Tripoli's Green Square during the two-hour spectacular, the Times reports.
In the clip, Colonel Gaddafi's son, Saif, raises aloft his arms as he acknowledges the joyful reception from the crowd below.
The inclusion of the footage seems almost calculated to provoke the West.
Britain and America had urged Libya to keep al-Megrahi's homecoming low key, and President Obama and Gordon Brown both expressed disgust when he was given what appeared to be a rapturous welcome at Tripoli airport.
Libya is staging six days of celebrations in honour of Gaddafi''s contribution to the country, including military parades and a floodlit extravaganza with scantily clad dancers, from Tuesday.
Gaddafi was a 27-year-old signals officer when he led an army putsch against the ailing King Idris in 1969.
In the lead-up to the events, Gaddafi sought to burnish his reputation on the international stage but with mixed results. Dozens of Western leaders were invited to the no expense spared celebrations in Tripoli but only President George Abela of Malta and his wife Margaret are attending.

Image: Libya's leader Muammar Gaddafi attends a ceremony to celebrate the 40th anniversary since he seized power in Libya, at the former US base Matega in Tripoli
Photograph: Ismail Zetouny/Reuters