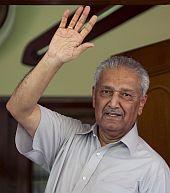 Pakistani nuclear scientist A Q Khan, who is widely regarded as the founder of Pakistan's nuclear programme, is a free man again and may share his secrets with establishments around the world, said Pakistani daily The Dawn.
Khan walked out a free man on August 28 after the Lahore high court lifted all restrictions on his movement following an appeal by the scientist. Earlier, Khan was released after a five-year house arrest in February.
In January 2004, Khan had confessed to having been involved in a secret international network of nuclear weapons technology proliferation from Pakistan to Libya, Iran and North Korea.
It is believed that Khan and his network are one of the worst proliferators of nuclear technology that could be used to develop nuclear weapons.
Though pardoned by the President Pervez Musharraf, Khan had been earlier involved in a network and had supplied blueprints of various parts of a nuclear programme for sale to other countries.
Considering this, it becomes a cause of worry that Khan can go beyond his bitterness for the former dictator and perhaps give out the many secrets he keeps regarding the country's nuclear programme, The Dawn reported.
In August 2005, Musharraf had confirmed that Khan had supplied gas centrifuges and gas centrifuge parts to North Korea and, possibly an amount of uranium hexafluoride. And now that Khan is a free man, agencies around the world may now try to get their hands on him.
Image: Pakistan nuclear scientist A Q Khan| Photograph: Mian Kursheed/Reuters