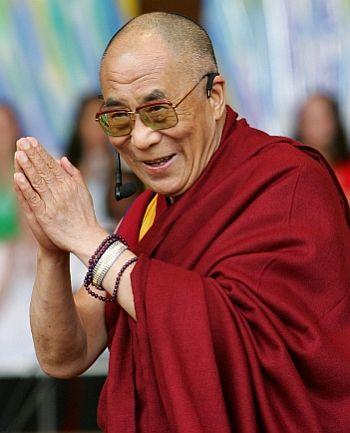 Ahead of his proposed visit to Arunachal Pradesh, the Dalai Lama on Saturday hit out at China for opposing his trip to the state saying it was "politicising too much" the issue as he was going there solely for teaching.

The Tibetan spiritual leader said he was surprised and saddened by China's criticism of his visit to Tawang monastery in Arunachal Pradesh.
"I was surprised at China's criticism. If my visit creates problem, I am very sad, that's all," the Tibetan leader, on a visit here told journalists, implying that he intends to go ahead with his visit on November 8.
"The Chinese government politicises too much wherever I go. Where I go is not political," the 74-year old Nobel Peace Prize winner said.
Contending that he was travelling to Arunachal in connection with teaching his beliefs, the Dalai Lama said Tawang held great memories for him as this was his first stop 50 years ago when he was forced to flee Tibet, Kyodo said.
India and China were recently engaged in a verbal spat over Dalai Lama's proposed visit to Arunachal over which China lays claim.
China objected to his visit, but India rejected the objection, saying the Tibetan leader was free to travel anywhere in India.
New Delhi, however, has made it clear that the Dalai Lama is not supposed to indulge in political activities or discuss India-China boundary question.
The Dalai Lama is scheduled to visit Tawang monastery to deliver spiritual discourse to his followers at the invitation of local leaders and also dedicate a new hospital, built in part with funds donated by him.

Dalai Lama recently visited Taiwan, which Beijing considers part of its territory and met with political leaders on the island, despite strong criticism from China.
During the press conference, Dalai Lama raised concerns over the plight of Tibetans and other ethnic minorities in China, urging journalists to visit there to assess the conditions without the presence of security officers.


"If the reality in Tibet is what the Chinese government claims, then our information is wrong. We would have to apologise and cease all our activities," the Tibetan spiritual leader said.

"... But if it is not as what the government claims, then Beijing should take a realistic approach at solving the situation because propaganda isn't going to work," he said.
He said allowing the media to report the truth about Tibet would help China build trust with other countries and that would increase its authority in global affairs.
Although branded as a separatist trying to tear Tibet away from Chinese rule, the Dalai Lama insisted he is seeking genuine autonomy, not outright independence.
The Tibetan spiritual leader is on a nine-day trip to Japan, during which he will visit the southern Japanese island prefecture of Okinawa and the western Shikoku Island city of Matsuyama to deliver lectures.
© Copyright 2022 PTI. All rights reserved. Republication or redistribution of PTI content, including by framing or similar means, is expressly prohibited without the prior written consent.