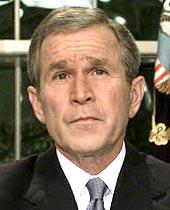 Former United States President George W Bush is a 'great friend of our country'.
This is how Prime Minister Manmohan Singh described him as he hailed the key role played by Bush in ending India's 34-year isolation in the nuclear field.
"We, in India, recognise the important role he (Bush) played in the fruition of the civil nuclear cooperation initiative," he said at the Hindustan Times Leadership Summit that will be addressed by the former US President on Saturday.
Dr Singh, who later hosted a lunch for Bush, had told him last year "the people of India deeply love you".
Dr Singh and Bush had taken a path-breaking decision on July 18, 2005 -- to enter into civil nuclear cooperation -- which led to the lifting of sanctions by the Nuclear Suppliers Group on India for civil nuclear trade with the world in September last year.
Subsequent to the Nuclear Suppliers Group's decision, India has signed civil nuclear agreements with seven countries -- US, Russia, France, Mongolia, Namibia, Kazakhstan and Argentina.
"We are working with our international partners to give a boost to our nuclear power programme. This will be an important contribution to our efforts to use cleaner fuels and thus combat climate change," Dr Singh said.
Significantly, the PM will be the first State guest to be received in November by the US, under the 10-month-old Barack Obama administration.
During his visit to Washington in September last year, during Bush's presidency, Dr Singh had told him, "In the last four and half years that I have been prime minister, I have been the recipient of your generosity, your affection, your friendship. It means a lot to me and to the people of India."
"When history is written, I think it will be recorded that President George W Bush played a historic role in bringing our two democracies closer to each other," the PM added.
At the Summit today, Dr Singh noted that he was speaking on the birth centenary of visionary nuclear scientist Homi Bhabha, who had dreamt of using the atom for peaceful energy.
"In concluding the civil nuclear agreement, we sought to realise Dr Bhabha's dream of tapping the atom for the welfare of the people," the PM said, adding, "It is only fitting that we pay tribute to Homi Bhabha's genius at a leadership summit".