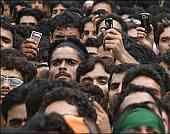 To address serious security concerns, the Centre on Friday decided to ban pre-paid mobile phone connections in Jammu and Kashmir from November 1.

The Ministry of Home Affairs has decided that no fresh pre-paid mobile connections should be issued and existing pre-paid SIM cards should not be renewed in the state after November 1.
The move will affect nearly 38 lakh pre-paid mobile phone subscribers in the state.
The Ministry has asked the Department of Telecommunications to take appropriate action in the matter for implementation of the decision.
The step comes in the wake of reports that proper verification is not being done while providing such pre-paid mobile connections by the service providers/vendors, a Home Ministry spokesperson said.

In some cases, a single person had been issued with multiple number of connections. Vendors are also reportedly using fake documents/identity numbers, particularly, in the case of pre-paid connections.
"This situation had given rise to serious security concerns. Hence, the decision," he said.
During his visit to the state last fortnight, Home Minister P Chidambaram had said the government has been making efforts to persuade pre-paid subscribers to switch to post-paid connections due to security issues.
In Jammu and Kashmir, Airtel has nearly 19 lakh subscribers followed by BSNL and Aircel that have 12 lakh and seven lakh subscribers respectively.