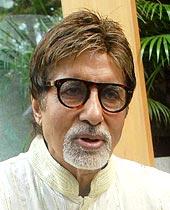 Nishtha Foundation, to which actor Amitabh Bachchan had donated some plots in Barbanki district for the construction of a college named after his daughter-in-law Aishwarya Rai, has returned two of the plots back to the superstar.
A UP villager had filed a complaint against Amitabh accusing him of fraud on October 27, as the actor had allegedly earlier promised to donate the plots to Daultapur village gram samaj, but had instead given it to the foundation, which is run by actor-turned-politician and Member of Parliament Jaya Prada.
The land transfer in favour of Amitabh was executed by Devendra Singh, secretary of Nishtha Foundation, said the actor's former representative Vinay Shukla.
"The filmstar will soon visit Barabanki and would donate the land to the gram samaj," Shukla said.
On July 5, 2007, Shukla had given a letter to the village head stating that the filmstar was willing to donate land in Daulatpur village to the gram samaj, the complaint said.
Shukla said the land to be donated to the Daulatpur gram sabha was by "mistake" included in the gift deed towards the foundation.
District Magistrate Rajov Gothwal, however, said he had not received any letter regarding the land transfer so far.
Image: Actor Amitabh Bachchan