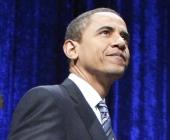 United States President Barack Obama has reiterated his administration's commitment towards building an active, cooperative and comprehensive relationship with China, which requires strong diplomatic and military ties.
Obama's assurance to China came during his meeting with Xu Caihou, vice chairman of China's Central Military Commission, at the White House. 
Obama recalled his two previous meetings with the Chinese president, during which they agreed on the need for the military of the two countries to expand exchanges and increase mutual trust, China Daily reports.
Xu was quoted as saying that China attaches great importance to the two-way military ties and is willing to work closely with the United States to respect and take care of each other's interests and concerns. 
He also pointed out that two-way military ties play an important role in enhancing strategic mutual trust and deepening their pragmatic cooperation, and will thus greatly benefit efforts to safeguard regional stability and world peace.
Xu told Obama that he had earlier reached seven agreements with US Secretary of Defense Robert Gates -- on expanding military exchanges and cooperation between the two nations -- and they had in-depth exchanges of opinions on other issues of mutual concern. Obama said he was looking forward to his visit to China in November.