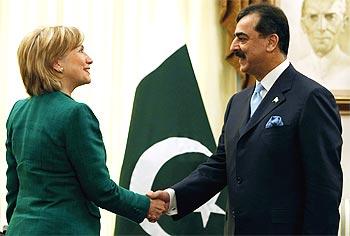 The United States on Thursday appealed to India and Pakistan to resolve their differences for the benefit of regional trade, but made it clear that the issues between the two countries can only be settled bilaterally.
"What we hope is that at some point in the future -- which I would like to see in the not too distant future -- Pakistan and India can resolve their outstanding differences," US Secretary of State Clinton said during an interaction with youths at the Government College University in Lahore.
"And why do I say that? Because I believe that trade between Pakistan and India could rival trade anywhere. I believe that if there were peace between Pakistan and India and the outstanding issues were resolved, Pakistan would take off like a rocket in terms of economic development," she said.
Clinton, however, said that while the US encourages both countries to address their problems, only Pakistan and India can resolve such issues.
She said Pakistan has the makings to become an economic 'powerhouse' because of its strategic location and access to the sea but this would only become possible if it improved ties with India.
"If you had trade opening up to the north, east and west it would make a huge economic difference to your country and one of the major obstacles standing in the way is the distrust and the history between India and Pakistan, which blocks the kind of opportunities for investment that I think could make a huge difference," she said.
Clinton said the perception in Pakistan that the US always extends support to India is 'not true.'
She was responding to a question from a student, who wanted to know why the US administration 'always supports India' though Pakistan has stood with America in difficult situations.
Explaining the dynamics of the US' ties with the two South Asian neighbours, Clinton said, "We are friends with both Pakistan and India, we work with both. We have given far more aid over many years to try to help Pakistan's development."
The relationship between the US and Pakistan dated back to this country's creation in 1947 though there have been 'some problems' and 'ups and downs,' she said.
"So it's been challenging at times but we have had a consistent relationship with Pakistan," she added.
Clinton also listed occasions on which the US and Pakistan were 'very closely connected.'
"Pakistan helped to open the US to China. During the 1980s when the Soviet Union was in Afghanistan, our two countries worked closely together," she said.
However, Clinton evaded questions on contentious issues like US drone attacks in Pakistan's tribal areas and conditions attached to American aid that have upset the powerful Pakistani military establishment.
Image: Pakistan Prime Minister Yusuf Raza Gilani shakes hands with US Secretary of State Hillary Clinton at his residence in Islamabad on Wednesday
Photograph: Faisal Mahmood / Reuters
Text: PTI