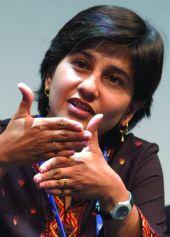 Attorney and grassroots organiser Mallika Dutt, a passionate fighter for immigrant and women's rights, was honored by the Asian American Justice Center with the annual American Courage Award in early October.
"Recognition from one's own community is the greatest honor one can receive," said Dutt, who runs the New York-based nonprofit Breakthrough.
"We hope that our collective efforts will result in new immigration policies that respect fundamental American values of fairness and due process."
The AAJC, one of the country's leading civil rights organisations, created in 1997 the American Courage Award to be given to an individual, company, or organisation 'that has shown extraordinary courage or commitment to the cause of civil rights".
The organisation said Dutt is "spearheading efforts to stop the erosion of fundamental human rights in the United States, particularly in the aftermath of 9/11".
Kolkata-born Dutt, 46, joins the Courage awardees including the award-winning writer, actor and activist Anna Deaver Smith, the MTV Network -- which spearheaded the Fight for Your Rights campaign -- and Ramu V Potaraju, who was the chief operating officer of Intelsat when he received the award.
In 1981, Dutt also co-founded Sakhi for South Asian Women, a pioneering organisation that addresses domestic violence in New York.
An alumna of Mount Holyoke College, Massachusetts, Columbia University and New York University, she convened what is believed to be the first US meeting to create links between US human rights groups and global groups.
Recently, Breakthrough partnered with the AAJC and 25 other leading organisations to produce Restore Fairness (www.restorefairness.org), a documentary that calls on the government to bring back due process to immigration in the US.
"Restore Fairness educates policy makers and the general public about the harsh consequences of current policies that are leading to deaths in detention, raids of people's homes without warrants, and abusive practices," Dutt said.
"These policies are affecting legal permanent residents and undocumented immigrants including hundreds of people in the South Asian community. We have partnered with several groups to produce the video including the South Asian Americans Leading Together, the American Civil Liberties Union, Amnesty International USA and the AAJC, and it's being distributed all over the country."
Breakthrough has also launched a number of initiatives in India, using music and other forms of entertainment, to fight violence against women, sexuality and HIV/AIDS.
In 2000, Dutt launched Mann ke Manjeere, which won the 2001 National Screen Award in India for best music video.
"Indians are crazy over movies," she said. "By using entertainment, we were able to reach millions of people in India."
She said Breakthrough has been working to raise awareness about these issues through innovative multimedia initiatives like ICED -- I Can End Deportation (www.icedgame.com) -- and End Homeland Guantanomos (www.homelandgitmo.com).
"We have reached millions through these initiatives and we are hoping that under President Obama's leadership," she said and added, "We will soon see immigration policies that balance national security concerns with respect for human rights."
Image: Mallika Dutt
www.breakthrough.tv