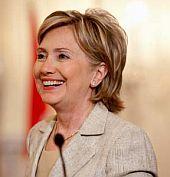 US Secretary of State Hillary Clinton arrived in Pakistan's capital Islamabad early on Wednesday on a three-day visit, which she described as a very important tour to allay all misunderstandings between both countries.
This is Clinton's first visit to the country since taking charge in the Obama Administration.
Talking to media persons on-board the special aircraft en route to Islamabad, Clinton said it was imperative to resolve all issues between the two countries and broaden the agenda for cooperation.
She underlined that the security issue was one of the most important issues.
'We hold that to be very important. It remains a very high priority. But we also recognize that it is imperative that we broaden our agenda with Pakistan,' The Politico quoted Clinton, as saying.
'I think it's fair to say there has been a lot of misconceptions about what the United States intends with our relationship with Pakistan. We don't want it just to be about security and just about our anti-terrorist agenda. We want to strengthen democracy, we want to strengthen civilian institutions,' she added.
Clinton is expected to meet President Asif Ali Zardari, Prime Minister Yousuf Raza Gilani, Foreign Minister Shah Mehmood Qureshi and Chief of Army Staff General Ashfaq Pervez Kayani during her tour.
Clinton's visit comes at a time when anti-American sentiments in Pakistan are at an all time high, and the top US diplomat would surely work to allay those negative perceptions.
The ongoing dispute over the Kerry-Lugar legislation and the Army's reservations regarding it will also be part of Clinton's discussions with the Pakistani leadership during her tour.
Diplomatic sources said Clinton would try to assure various stakeholders that the US has no intentions of micromanaging Pakistan or enforcing unnecessary restrictions that could harm long-term relations.
Pakistan's concern over India's involvement in Afghanistan and Balochistan is also likely to be taken up with Clinton.