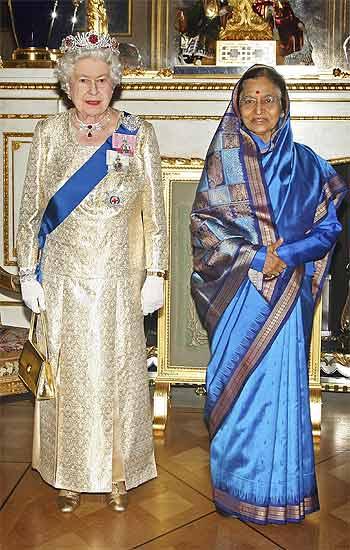 The Mumbai terror attack was discussed during the State Banquet hosted by Queen Elizabeth in the honour of President Pratibha Patil, with the British monarch paying tributes to the 'courage and steadfastness' shown by the Indian people, in the face of the appalling incident.
"We are mindful that in a month's time, India will mark the anniversary of the appalling terrorist attacks on Mumbai, in which so many Indians were killed," the Queen said on Tuesday night during the Banquet.
The Banquet witnessed the attendance of members of the Royal Family and the political leadership of Britain including Prime Minister Gordon Brown.
The Queen paid tributes to the courage and steadfastness shown by Indian forces and people "in the face of this great tragedy."
In November, Mumbai will mark the first anniversary of the terror attacks, in which over 180 people, including top police officials, were killed by ten armed terrorists who struck at four locations.
In her speech earlier, President Patil lauded the 'support and encouragement' received by India from Britain after the audacious terror attacks.
The Queen added that one of the highlights of the cooperation between India and Britain is in the field of education.
"I know of your own personal commitment towards building a high-quality education system at all levels in India; and I want to assure you that we remain deeply committed to working with you towards this important goal," she said.
The Monarch said, "The first group of Manmohan Singh scholars has just arrived to begin their studies at Cambridge University. In the future, we hope that many more British students will go to study in Indian universities, making this a genuinely two-way exchange of learning."
During the State Banquet, the Queen said 2010 will be a 'banner year' for India as the Commonwealth Games will be hosted in New Delhi.
"I look forward to launching the Games Baton Relay with you from Buckingham Palace later this week," she said.
Image: Britain's Queen Elizabeth and President Pratibha Patil pose for a photograph as they arrive for a State Banquet in Windsor Castle | Photograph: Chris Jackson/Reuters