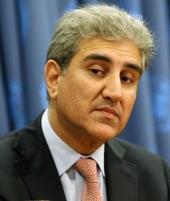 Pakistan Foreign Minister Shah Mehmood Qureshi has said that a solution to the Kashmir dispute is critical for better ties between Pakistan and India.
He also emphasised that there was a dire need to resolve the issue in accordance with the aspirations of Kashmiris.  Qureshi further said that the Pakistan government had invited Prime Minister Manmohan Singh to resume the composite dialogue, which was necessary for ensuring peace in the region. 
The foreign minister has regularly raised his voice for a solution to the Kashmir dispute. In the recent past, he has held inter-ministerial meetings and taken Kashmiri representatives from both sides of the border into confidence.
He had also discussed the issue during his meeting with External Affairs Minister S M Krishna in September.