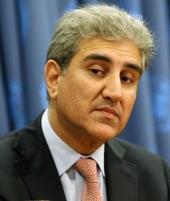 Pakistan Foreign Minister Shah Mehmood Qureshi has said that a solution to the Kashmir [ Images ] dispute is critical for better ties between Pakistan and India [ Images ].
He also emphasised that there was a dire need to resolve the issue in accordance with the aspirations of Kashmiris.  Qureshi further said that the Pakistan government had invited Prime Minister Manmohan Singh [ Images ] to resume the composite dialogue, which was necessary for ensuring peace in the region. 
The foreign minister has regularly raised his voice for a solution to the Kashmir dispute. In the recent past, he has held inter-ministerial meetings and taken Kashmiri representatives from both sides of the border into confidence.
He had also discussed the issue during his meeting with External Affairs Minister S M Krishna [ Images ] in September.