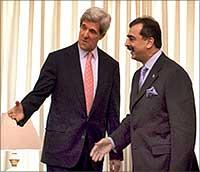 American Senator John F Kerry, chairman of the powerful Senate Foreign Relations Committee, who just returned from a trip to Afghanistan after twisting Afghanistan President Hamid Karzai's arm to acquiesce to hold a run-off election after charges of massive fraud and corruption were uncovered in the recent election, has warned that Pakistan could become the epicenter of terrorism in the world, since it is now the headquarters of the Al Qaeda.
In remarks to the Council on Foreign Relations, Kerry, declared, "What happens in Afganistan -- and this is critical -- has an impact on Pakistan."
"Pakistan is not only the headquarters of the Al Qaeda today, but it could easily become the epicenter of extremism in the world," he said.
Kerry said, "We have enormous strategic interests in the outcome of the struggle in Pakistan. It is a fragile democracy that is fighting a determined insurgency. It has a full nuclear arsenal and a longstanding, sometimes violent rivalry with its neighbour India."
He acknowledged, "While stabilising Afghanistan in not going to solve all of our problems in Pakistan, instability in Afghanistan, only increases the risk of conflagration where the world can least afford it -- next door in Pakistan."
Thus, he argued, "Given the balance of our strategic interests, it should serious pause to the military and civilian strategists alike that the current balance of our expenditure between Afghanistan -- where there is virtually no Al Qaeda -- and Pakistan, where there is, tallies 30 to one."
"That's why, regardless of what happens in Afghanistan, and especially if we want to reduce the need for additional boots on the ground over the long haul, it is vitally important that we support and intensify even our support, and improve our cooperation with Pakistan," Kerry said.
He declared, "So, these are the stakes -- preventing Afghanistan from becoming a sanctuary for the Al Qaeda and destabilising Pakistan and the region -- and the challenge is to establish realistic goals about how to do that."
Kerry said that the United States 'can't go it alone,' and bemoaned that 'there is something wrong with the fact that today, we are borrowing money from China to provide security for Afghanistan so that China can go there and mine their copper.'
"We want all nations to trade and invest in Afghanistan," he said, "but we also want all nations to help with stabilising the country. What happens inside Afghanistan is important to our strategic interests, but our goals and our mission do not end at Afghanistan's borders."
Reiterating the importance of Pakistan, Kerry asserted, "No front is more important in our fight against international terrorism than nuclear-armed Pakistan, and the chaos next door in Afghanistan, would have enormous repercussions there."
The lawmaker, who during his recent trip to Afghanistan, also made a quick trip to Pakistan and met with Pakistan President Asif Ali Zardari and Pakistan army chief Ashfaq Kayani, said, "We have a real stake in supporting allies in Pakistan and improving our relationship with the people. That's why we are committed to providing the Pakistani people $1.5 billion a year for each of the next five years to build schools, hospitals and roads."
Kerry, who earlier capitulated to the Pakistani army's demands that there be no conditions attached to the massive Kerry-Lugar aid bill that he co-authored, said, "We need to make it clear that we respect their sovereignty as we give Pakistan vital breathing space in order to deal with its difficult domestic problems."
"These are serious challenges for Pakistan's civilian, military and intelligence leaders," he said, and acknowledged, "Historically Pakistani intelligence services have used the Taliban as a hedge and there is real concern that continues."
Kerry warned, "If we falter in Afghanistan, factions within Pakistan, may well determine that it's in their interest to strengthen their dealings with extremists."
However, he said, "The good news is that right now, many Pakistanis recognise that they face an existential challenge from within their borders," and in a salute to the that country's army, added, "The Pakistani military has demonstrated firm resolve with its current offensive against the Pakistani Taliban in Waziristan and they deserve great credit for that."
Kerry emphasized, "We need to be doing as much as we could do…to assist the Pakistani military as they go after domestic extremists, and nothing will do more to help tighten the vice on the remnants of the Al Qaeda than to do that in a coordinated way."
"America and the international community," he said, "must reassure Pakistanis that tackling this challenge will lead to a lasting relationship with real economic and security benefits. We should be reaching out regionally and globally to Moscow, to Beijing, Delhi and Central Asia and also to Tehran."
Kerry said, "We should explore ways to cooperate with each of them because each of them has direct interests in Afghanistan," and while acknowledging that 'none of this will be easy,' he predicted, "There is a path forward, if we focus on what is achievable."
Image: US Senator John Kerry (left) introduces his delegation after meeting with Pakistan PM Yusuf Raza Gilani at the PM's residence in Islamabad on October 19
Photograph: Adrees Latif / Reuters