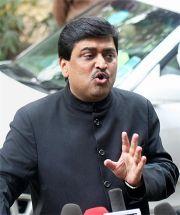 Ashok Chavan, the Congress' choice of Maharashtra chief minister for the second time, on Sunday said the state cabinet would be formed after the meeting of Nationalist Congress Party Member of Legislative Assembly on Monday and added that Raj Thackeray's support would not be taken to form the government.
"The NCP legislature meeting will be held tomorrow and after that only the government formation process will start," said a smiling Chavan to mediapersons at a press conference in New Delhi.
Asked if the Congress-NCP government would take support of the Maharashtra Navnirman Sena, which won 13 seats in the polls, he said, "There is no question of taking Raj Thackeray's support."
Listing the government's priorities in his second term in office, he said that he would work to implement the election manifesto of the two parties.
He added that Maharashtra would be made self-reliant in the power sector in the next three years.
Chavan said after his appointment as chief minister was announced on Saturday night, he held meetings with President Pratibha Patil and senior leaders like A K Antony, Sharad Pawar and Ahmad Patel to discuss the formation of the new government.
Image: Mahrashtra's incumbent Chief Minister Ashok Chavan