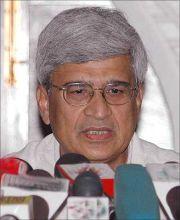 The Communist Party of India-Marxist on Sunday defended West Bengal government's action in swapping women Maoist supporters with a police officer held captive by the Naxalites and said it did not consider the extremists as Leftists.
"The state government is carrying out joint operations to isolate them in Lalgarh and other areas. The government exercised its judgment and decided to get them (26 women) released. We have nothing more to say on this," said CPI (M) General Secretary Prakash Karat.
In reply to a question, he described the move to swap the 26 women agitators with a senior police officer as an "appropriate step". The women released were "not important cadres but ordinarily people mobilised by the Maoists".
"We do not consider the Maoists as a Left trend or a Left organisation. They have killed over 60 of our people in West Bengal. They are targeting our offices and workers also in Chhattisgarh and killed our leader in Sundergarh area of Orissa," Karat said, adding that the party would carry out a vigorous nationwide political campaign to isolate the Maoists.
To a question, Karat said, "We are very much present (in Lalgarh). We are working there. We will mobilise the people to resist them and fight them back. We don't rely on the police and the administration."
To a question, Karat said the Centre and the states of Jharkhand and Chhattisgarh should work out a package to deal with problems faced by the tribals for a long time.
On the use of army to tackle the Maoist problem, he said, "I don't think armed forces should be used to fight the Maoists and the Centre is also not doing so."
The CPI (M) general secretary's statements defending the Left Front government's action came a day after West Bengal Chief Minister Buddhadeb Bhattacharjee said the swap move was an exception and not part of the policy to get rid of the Left extremists from the state.
"There is no illusion about it because the Maoists are engaged in murders, looting, extortion and all kinds of criminal activities," the chief minister said, while making it clear that the fight against them would continue.
Karat also said the border disputes between India and China could be resolved if both the countries continued to work on the basis of the political parameters agreed upon in 2005.
Emphasising that Arunachal Pradesh is an integral part of India, Karat said there are "good provisions" in the political parameters agreed by both the parties.
"If they continue to work on that, I think, progress will be made," he said after a three-day meeting of the CPI (M) Central Committee.
When pointed out that there was tension in relations between both the countries, he said the prime ministers of India and China had categorically denied it and have noted that there is no uneasiness in ties.
Image: CPI (M) General Secretary Prakash Karat