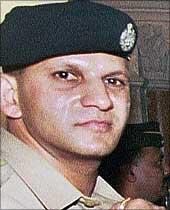 Armed with an order from the Chief Information Officer of Maharashtra [ Images ], 26/11 martyr Ashok Kamte's [ Images ] widow will now be able to scrutinise original transcripts of telephone calls between the control room and police officers on the day of Mumbai terror attacks [ Images ].

CIO Suresh Joshi has asked the police to provide copies of original transcripts of telephone calls, control room log book and documents to Vinita Kamte within 30 days. The order was passed on Kamte's appeal after deputy police commissioner allowed her scrutiny of documents but refused to provide copies of the originals. Ashok Kamte and two other police officers, Hemant Karkare [ Images ] and Vijay Salaskar, were shot dead on November 26, 2008.

Vinita Kamte told PTI "there were too many discrepancies in reports on shoot-out in which my husband and two other senior officers were killed. Unfortunately, police never told us what had happened. According to a news report, police control room was not aware that bodies of the slain officers were lying for 40 minutes behind Cama Hospital [ Images ] after the shoot-out". "Only when I went to the spot and talked to people and officers, I learnt that there was an exchange of fire between terrorists and the three officers. Police clarified this later but it was a half-hearted explanation. Therefore, I was curious to know what had happened on that night," she said.

Kamte said she was seeking details of control room records only for her own satisfaction. She said, initially, she wrote a letter to the city police commissioner seeking details. He forwarded the letter to joint police commissioner Rakesh Maria [ Images ], but there was no response. Kamte then filed an application through Right to Information Act to get the details.

The RTI officer first rejected Kamte's application. He attached a letter from Maria, saying the case was on and the matter was sub-judice, she said, adding she filed an appeal before the DCP who allowed her scrutiny of documents but refused to provide the originals.

Kamte said she then filed another appeal which has now allowed her scrutiny of original documents.
Image: Ashok Kamte