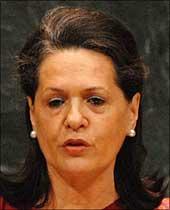 A meeting of the newly elected Congress Members of Legislative Assembly in Maharashtra on Saturday authorised party president Sonia Gandhi to nominate their new leader, who will be the next chief minister.
A one-line resolution, authorising Sonia Gandhi to name the new leader, was passed at the first meeting of the Congress Legislature Party, convened in Mumbai to elect the leader, two days after the Congress-Nationalist Congress Party combine stormed back to power for the third time in a row.
The meeting was held in the presence of All India Congress Committee observers -- Defence Minister A K Antony, who is Congress general secretary in charge of Maharashtra, Deputy Chairman of Rajya Sabha K Rehman Khan and senior leader Digvijay Singh. The three leaders arrived in the city today afternoon.
The observers are now meeting the MLAs individually at the party office in Vidhan Bhavan, to elicit their views on the leadership issue, Congress sources said. The Congress, with 82 seats, emerged as the single largest party. Its ally NCP pocketed 62 seats in the 288-member House.
The ruling coalition is all set to form the next government for the third time, with incumbent Chief Minister Ashok Chavan emerging as the frontrunner for the top post.
"A majority of the newly elected MLAs told us they would abide by the decision of the party high command while some of them also gave their preferences (of who should be the next CLP leader). But all of them agreed to accept whatever decision the Congress president takes," Antony told reporters after the meeting.
He declined to disclose the names discussed at the meeting but sources said Chief Minister Ashok Chavan has emerged as the frontrunner for the coveted post. Before flying to New Delhi with Chavan, Vilasrao Deshmukh and Narayan Rane, who are also among the claimants for the post, Antony said the new leader will be announced after consultations with the party president.
Though many expected today's meeting to be a smooth affair for Ashok Chavan, the presence of a sizeable number of Deshmukh supporters among the newly-elected MLAs was understood to have come in the way of a final decision.
A day after he almost ruled himself out of the chief ministerial race, Union Heavy Industries Minister Deshmukh today hinted at keeping all his options open, saying he was prepared to accept whatever responsibility the Congress high command gave him.
"Now, it is up to the high command. I will do whatever the high command asks me to do. I was made the chief minister twice and I resigned (on being asked by the high command)," he told reporters.
Deshmukh had told the media, after his Friday's meeting with Congress president Sonia Gandhi that he was happy serving as an Union minister in Delhi.
In order to iron out differences and evolve a consensus on the new leader, Deshmukh, Rane and Chavan left for New Delhi, along with the AICC observers, to meet Gandhi.