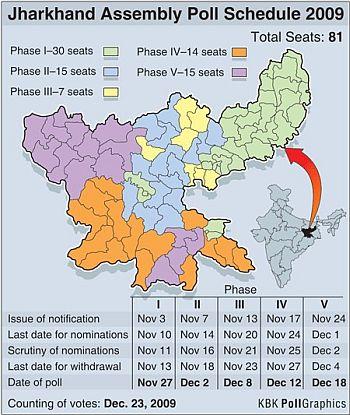 Without a popular government for almost a year, Jharkhand will go to Assembly polls in November-December staggered over nearly a month with the first phase of polling scheduled for November 27.
Announcing the poll schedule a day after the Union Cabinet decided to end President's rule in Jharkhand and dissolve the state assembly, the Election Commission said polling will be held on November 27, December 2, 8, 12 and 18.
The counting of votes would take place on December 23, Chief Election Commissioner Navin Chawla told reporters.
The state had been under President's rule since January 19 this year and a government has to be in place before January 18 next.
The Commission has prepared the schedule after taking into consideration all relevant aspects like climatic conditions, academic schedules, law and order situation and availability of central security forces and time needed for their movement, Chawla said.
 Asked whether any special security arrangement has been made for the assembly polls in the state, he said, "we have made adequate arrangements".
In all 1,80,27,476 voters would be eligible to cast votes in the state where a popular government has to be installed before January 18, he said adding of the 81 seats, 28 seats have been reserved for Scheduled Tribes and nine for Scheduled Castes.
When asked why the EC has announced a five-phased polls in the state when it was held in three phases in the last elections, Chawla said, "After taking all aspects into consideration, five phases have become necessary".
"We have taken so many factors into consideration. We have to take everything into account," he said. The CEC said that the state has 74.19 electors with photographs in the electoral rolls and Electors Photo Identity Cards (EPIC) coverage is 77.63 per cent.
The poll would be conducted through Electronic Voting Machines (EVMs) and the EC has made arrangements to ensure availability of adequate EVMs for the smooth conduct of elections, he said.
Based on the assessment of the ground situation, Central Police Forces (CPF) and State Armed Police (SAP) drawn from other states would be deployed during the elections in the state, Chawla said.
Observing that the EC has been issuing instructions from time to time on advance preventive measures to be taken by poll officials to maintain law and order, he said "the
Commission will be constantly monitoring the ground situation closely and will take appropriate measures to ensure peaceful, free and fair polls".