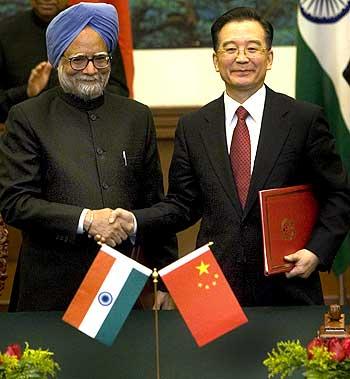 The serene Thai beach resort in Hua Hin, Thailand is expected to provide an ideal setting for Saturday's meeting between Prime Minister Manmohan Singh and his Chinese counterpart Wen Jiabao.
The Singh-Wen meeting, on the margins of the Association of Southeast Asian Nations and East Asia Summits, takes place against the backdrop of the war of words between the two neighbours over Arunachal Pradesh.
China regards Arunachal as a disputed territory and objected to the prime minister's visit to the north-eastern state during the campaigning for assembly polls, triggering a sharp reaction from India, which asserted that the state is an integral part of the country.
'All issues of mutual interest' will figure in the meeting, a senior Indian External Affairs ministry official said. New Delhi has taken exception to China giving visas to the residents of Jammu and Kashmir on loose sheets, raising suspicion that Beijing does not treat the state as a part of India.
Beijing, on the other hand, is unhappy over India making its visa regime stringent for expatriates, affecting Chinese workers on business visas the most. India has given a deadline of October 31 for shifting the business visas to employment visas, failing which the expatriates will have to leave the country.
Setting a positive tone for the talks, senior functionaries from both countries have said the border problem can be amicably resolved through bilateral negotiations. Chinese Assistant Foreign Minister Hu Zhengyue said in Beijing on Wednesday, "There has been good progress in our bilateral relationship and we hope this momentum can be sustained".
Finance Minister Pranab Mukherjee also said in New Delhi "I am quite confident that all border disputes will be resolved through discussions, amicably".
The Thai beach resort of Hua Hin, known for its quiet coastal villages, will host 16 Asia Pacific leaders to discuss ways for increased economic and strategic engagement among themselves.
Leaders from the 10-member ASEAN, India, China, Japan, South Korea, New Zealand and Australia would be attending the twin meets, which have been postponed twice, due to recent anti-government protests in Thailand.
Image: Prime Minister Manmohan Singh with Chinese Premier Wen Jiabao | Photograph: Ng Han Guan/Reuters
© Copyright 2023 PTI. All rights reserved. Republication or redistribution of PTI content, including by framing or similar means, is expressly prohibited without the prior written consent.