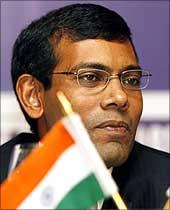 Describing climate change as one of the most serious security challenges the world is going to face, Maldives President Mohamed Nasheed, on Friday called for urgent United Nations reforms and making India and Brazil as permanent members of the Security Council.
Delivering an address on 'Environment and Conflict Resolution' at Observer Research Foundation in New Delhi, Nasheed said climate change is a 'more serious threat to the international order than terrorism, piracy or sharing of resources.'
The Maldives president said when the world wants India and other developing countries 'to do this and that to fight climate change, they should be made permanent members of the UN Security Council.'
Asking India to do everything possible to save frontline states like Maldives, the president said, "We are asking nothing short of saving the world. I would ask India to do it, instead of asking anyone else to do it."
The president argued that climate change is a real threat. "If we believe in science, the climate change is happening and it is a great threat to the world," he said.
Nasheed warned that if one thinks that the issue of 'climate change is effecting only Maldives today, remember it is going to happen to you tomorrow. If you think this is only a Maldives issue, you cannot be more wrong than this.'
Image: Maldives President Mohamed Nasheed
Photograph: Reuters