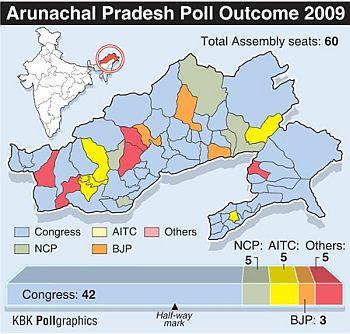 With the rivals failing to make any real impact, the ruling Congress has retained power in the frontier state of Arunachal Pradesh with a huge win.
The ruling party sailed through with a two third-majority in the 60-member assembly while its rivals Bharatiya Janata Party, Nationalist Congress Party and debutant Trinamool Congress failed to reach even double digit.
With the win, Chief Minister Dorjee Khandu is all set to form the next government in the frontier hill state for the second time in a row. Khandu was elected unopposed from Mukto assembly constituency in Tawang district. All the cabinet colleagues of Khandu too emerged winner in the poll.
Former chief minister and a veteran Congress leader Gegong Apang was defeated in Tuting-Yingkiong constituency by the NCP candidate Alo Libang while his son Omak Apang lost in Pasighat West constituency to his BJP rival Dr Tangor Tapak.
Prominent woman leader in the state Congress Yari Dulom lost in Daporijo constituency to her BJP rival Tapen Siga, while another senior Congress leader Kameng Dolo lost at Chayangtajo constituency to debutant Trinamool's candidate Karya Bagang.
The Congress contested all the 60 assembly constituencies on the plank of its development agenda and promise for early implementation of Prime Minister's massive infrastructure development package.
The BJP fielded 18 candidates. The NCP contested in 36 seats while the debutant TC fielded candidates in 26 seats. The BJP and the NCP were very vociferous during the run-up to the polls in accusing the ruling Congress of using its 'money and muscle powers.'
The polling was held in the state on October 13 last and over 72 per cent voters exercised their franchise, virtually snubbing China's repeated claim over the state.
In the last assembly elections held in 2004, Congress had won 34 seats while BJP won nine seats, NCP won two, Arunachal Congress won two and independents won 13. However, all the rival MLAs including those from the BJP joined the ranks of ruling Congress later, leaving no opposition in the state assembly.
Text: K Anurag in Guwahati
Graphic: KBK