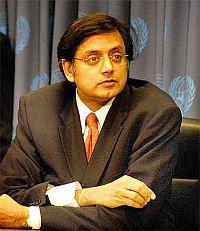 India on Tuesday said Pakistan should do more in containing militancy as well as dismantling terror infrastructure in that country. "Frankly we have not seen enough action on either, though we acknowledge that the civilian government in Islamabad had apprehended seven persons in connection with the Mumbai terror attacks," Shashi Tharoor, minister of state for external affairs, said in New York.
He termed as 'a source of worry' the recent release of Lashkar-e-Tayiba and Jamaat-ud-Dawa chief Hafeez Mohammed Saeed by a Pakistani court.
Tharoor noted that New Delhi was not interested in destabilising Pakistan nor any of its neighbours, instead it has a vision for a peaceful subcontinent.
"We actually believe at the strategic level that a peaceful, stable and prosperous Pakistan is in our interest," he said. The minister also emphasised that 4,00,000 troops stationed on the Indo-Pak border were in a 'defensive capacity' since the source of the conflicts between the two neighbours 'originated from Pakistan.'
Instead of diverting resources into the ongoing conflict, Tharoor noted that New Delhi's top priority on foreign policy is to pull 260 million people above the poverty line. The minister expressed hope for conditions 'where the peoples of both countries can focus on economic development and in getting on with our future.'
Noting that certain elements within the Pakistani establishment still make a distinction between 'good terrorist and bad terrorist,' Tharoor said Pakistan should fight militancy in any form.
"The good terrorists are the guys who kill Indians in India and the bad terrorists are those who attack Pakistani interests whether in Afghanistan or in Pakistan," he said.
"In other words, you blow up the Taj Mahal hotel you're a good guy, you blow up the Marriot in Islamabad you're a bad guy," he told CNN.
The minister, however, stressed that such an outlook was not attributed to the highest levels of the neighbouring government but to 'some elements.'
When asked if India was convinced that Pakistan was genuinely committed to ending the militancy, Tharoor noted that once the distinction between 'good terrorists and bad terrorists' disappear, then it would finally 'be a case of Dr Frankenstein really deciding he has to execute his own monster.'